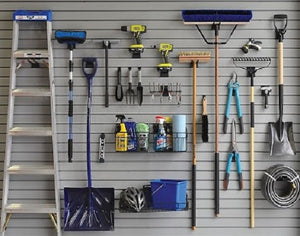 Flexi-Hang Wall Storage
AN EFFICIENT WALL MOUNTED STORAGE SYSTEM FOR BOTH SMALL & LARGE ITEMS FROM SCREW DRIVERS TO LAWN MOWERS (EVEN CHILDREN'S BUGGIES!)
Flexi-Hang is a modular system consisting of panels & customised accessories. The panels can be used to cover any sized space: A section of a wall, a whole wall or a room. The accessories consist of a variety of hooks, baskets, brackets & shelves to suit your needs. Once the panels have been attached to the wall, simply click in your chosen accessories and hang your items (so no need for unsightly nails & screws all over your wall). These can be relocated by simply 'unclicking and clicking' elsewhere on the panel(s).
The panels are made from hardwearing PVC & are maintenance free, strong, light & moisture resistant. They also double as a wall covering, hiding unsightly & blemished walls or simply changing the look and creating a 'WHITER BRIGHTER' SPACE. We offer a PROFESSIONAL FITTING SERVICE where required. Alternatively, the panels can be fitted by those with adequate DIY knowledge.
SUPPLIED WITH A 10 YEAR GUARANTEE
'GET YOUR BELONGINGS OFF THE FLOOR & ONTO THE WALL'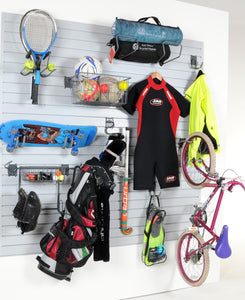 FLEXI-HANG Wall Storage with a difference - FACTS
-Can be fixed onto any flat wall surface, anywhere: Homes, garages, outbuildings or commercial properties.
-The panels can be used to cover any sized space: A section of a wall, a whole wall or a whole room. Can also be cut to size if required.
-Gets your belongings off the floor and onto the wall freeing up floor space for other use.
-Available with a wide range of customised accessories including: Hooks, brackets, baskets, shelves, rails and bike racks, all of which hook onto the panels (so there is no need to drill holes).
-The accessories can be added and adapted to suit your needs and requirements.
-Made of light and strong PVC which wipes clean and is maintenance free.
 -White & Bright and can be used to cover blemished walls.
-Professional fitting service available
SIMPLY 'CLICK & HANG'
FOR USE AT HOME OR WORK
Subscribe to our newsletter
Promotions, new products and sales. Directly to your inbox.